Tuber magnatum Picco (WHITE TRUFFLE)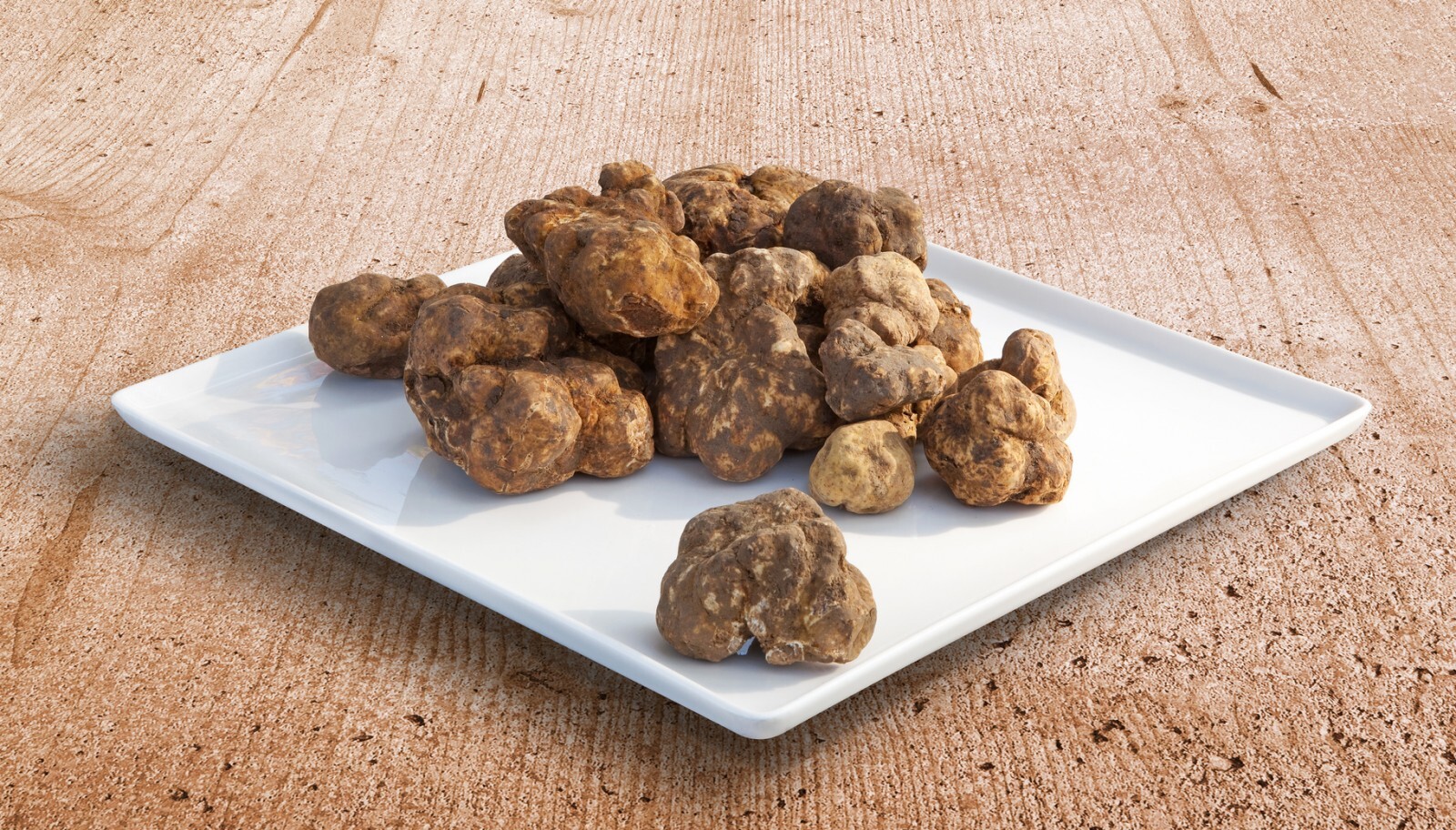 Generally known as White truffle, in Italian Tartufo Bianco d'Alba or Piedmont Truffle.
This truffle specie grows mainly in the Italian regions of Langhe and Montferrat or the Piedmont, near the cites of Alba (Piedmont) and Asti. It also grows in Croatia, Istria and Drome in France.
This truffle is born buried in the hypogeum. Its shape is very variable, irregular, lobed and rounded. The average size varies from 2 to 6 cm, but sometimes there can be up to 15 cm. The peridium has a pale beige colour, being sometimes olive green. Its aspect is smooth, and granular under a magnifying glass.
The gleba has a very variable colour. Initially is whitish, then yellowish pink, ochre brown, reddish brown, and sometimes with flesh-red spots.
White, thin, numerous, sinuous and braided veins.
It has a firm and friable consistency, with a soft and soapy touch, and an intense and complex scent, mixture of methane, fermented cheese and garlic, with an alliaceous, pleasant and intense flavour.
It is at its best raw. If it is cooked, it loses all its flavour.
The floor where it grows is loamy-chalky, with a great macro porosity, generally in well drained flood plains. They are mainly grey soils with small quantity of stones, always in shade and climates with small thermal oscillations. The vegetation where these truffles grows is very dense, and you can't see the "truffle burnt" circles on the ground. The rainfall must be high, and there mustn't be summer drought, because the rains in July and August are crucial for its growing. They mature from September to December and grow in symbiosis with oaks, poplars, willows, chestnut trees and lime trees. Nobody has achieved its cultivation.
Subglobose asci, elliptical, sessile and shortly pedunculate, from 60 – 90 x 50 – 60 µm, with 1 – 3 (4) spores (usually 2).

The spores are light yellow, ochre yellow when they mature. The shape varies from subglobose to ellipsoidal, honeycombed and with peaks of 4 – 5 µm. The reticulum is well marked, but is irregular and with polygonal alveoli, big, with 2 or 3 alveoli for increased length of spore and secondary peaks. The size varies from 20 – 33 x 20 – 30 µm (Q=1,05-1,33), depending on the number of spores in the asci.